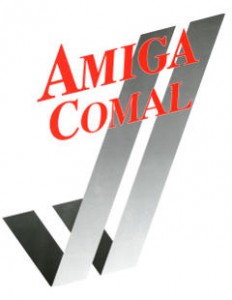 The Amiga Comal manual is now released.
There's a small story with this one.
A collegue of mine at the museum, was collecting Comal stuff and asked me if Comal existed for the Amiga, just the week before this I aquired this software with manual, so I could gladly tell him that it did. I was at the same time scanning the Amiga Interface magazines, and a mere 20 min later of his question, I saw an article in one of the later magazines. Call that coincidence?
This manual comes in a box, with an insert of a binder, good quality stuff.
I've added the separator pages which is wider than the regular pages.