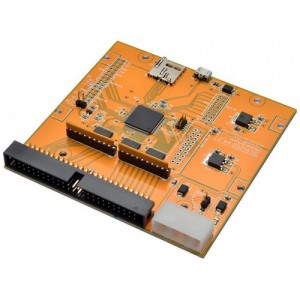 A guy on facebook posted a link to this device. It's a SCSI2SD device, meaning that you can insert a micro SD into this, and attach the board to a SCSI bus.
This is great for a lot of Amiga systems as SCSI drives in 100% top shape are hard to come by. A lot still works, but the "singing" of the spindle is just annoying.
Adding this to a GVP HD+ and similar devices makes it possible to remove the internal fan wire, so that won't make noise either.