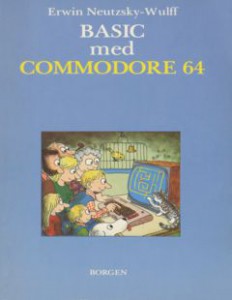 This isn't something I've experienced before.
This week I received a book from RetroPlay, this one actually – BASIC med Commodore 64 (Basic with C64) from the publisher Borgen.
Yesterday I scanned this book.
Tommy Jørgensen sent me a mail a month or so ago saying he had some books to contribute. I received his books today, and what are the chances of getting the same copy? I would have said almost next to nothing. But that wasn't the case.
So I'd like to dedicate the thanks to both RetroPlay and Tommy Jørgensen for their donations. For those interested the other Book from Tommy looks similar to this from the same publisher.
The title: Mikrodatamaten – Programmering og anvendelse   –   en bog om ZX81 BASIC
So a ZX81 BASIC book. Well since my preservation angel overrules my Commodore deamon I'll scan this book as well -soon even-. Yes I've scanned BBC Acorn manuals + some other stuff as well which isn't saved here on this site. But as long as the Commodore material is there to be scanned, my primary focus will be there.