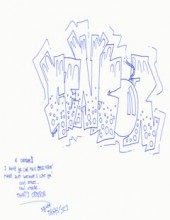 Stopped by Trap today to pick up some hardcopy magazines like earlier issues of Business. I got very much surprised to see his rather big assorted stack of c64 scene material. Handdrawn logos like this one, party invites, notes, letters and what not.
So you'll see quite a lot of scene related stuff in the upcomming days (perhaps weeks if the weather is still too good to stay inside).
Don't mind the condensed form of the thumb, the original paper is A4 in landscape.
When I visited him, his C64 had a permanent place next to his everyday computer on a tidy table. I guess there're still plenty of graphics and code waiting to come out, who knows?