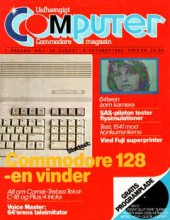 The very first issue of COMputer is now online. This issue came with a record in plastic (bendable). This might be the only danish computer magazine published with this kind of record.
A scan, audio recording and converted to TAP file is embedded in this magazine. You might need to download the PDF to access the TAP file, playing the MP3 shouldn't be a problem.
The audio file might not be usable to convert to TAP due to mp3 compression and low quality.
Thanks to Laust Palbo for the magazine and record, and thanks to Martin Sørensen (Laxity) for conversion to TAP.