Back to Basic.
(FB@2015-09-23)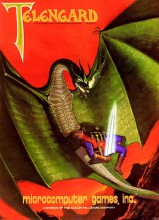 Vi ruller tiden tilbage til 1982… så på med gulerodsbukser, brede bælter og lyserød La Coste skjorte… det er bred ymer og knæhøj karse mand! Det er også den spæde begyndelse på C64 for Avalon Hill, firmaet der senere skal blive kendt for D&D klassikere i hobetal, lige nu har de ikke gjort meget væsen af sig men det skal snart ændre sig. På en spil konvention i USA støder de på spillet Telengard skrevet af Daniel Lawrence, en D&D crawler af Rogue typen, oprindelig udviklet i '76 på en DEC10 Mainframe på Purdue universitetet hvor han studerede.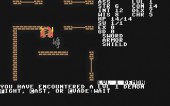 Det minder unægtelig om historikken på Colossal Adventure inkl. klager over de mange timers spilletid det tog fra mere seriøse formål og et par studerende der glemte at studere…
… men her er der tale om en realtids, no pause and no mercy, karakter opbygning i en kælder sort som kul, med små 2 millioner rum over 50 niveauer fyldt af ting som vil kværke, æde eller riste dig… gå på toilettet eller kig på fuglelivet uden for vinduet og du kan med stor sandsynlighed begynde forfra, spillet fortsætter uden mulighed for pause!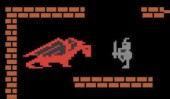 Det er kun muligt at gemme spillet på kroerne som ligger spredt i hulerne, men dit savegame slettes når du fortsætter og så er det bare surt hvis du bider i græsset som level 1 kriger/troldmand ved mødet med en level 4 drage. Det er også vigtigt at vælge rigtigt ved opdagelsen af nye våben, man kan kun bære et og det er ikke lige meget hvilket, hvis man skal overleve mod spillets 20 forskellige monstre vekslende fra væmmelige! hobitter til ildsprudende drager.
http://crpgaddict.blogspot.dk/2010/03/game-6-telengard.html?m=1
Spillet slutter når du møder din overmand og der skal gøres brug af ens fantasi hvis grafikken som ellers blev rost i C64 udgaven, skal tolkes… men inspirationen fra Telegard, altre, fontæner, teleportation og troner ses i D&D spil der blev udviklet i tiden kort efter udgivelsen, såsom Apshai serien.
http://www.aquest.com/telen.htm
I æsken ligger en manual (som ikke fortæller alt), en diskette, en plakat og et spilkatalog… ikke meget (for en big box samler) men overdådigt for sin tid…
http://www.angelfire.com/ny5/telengard/menu.htm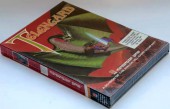 Telengard spillet havde en hardcore fanskare og der udvikledes opdaterede udgaver af spillet gennem årene samt et snydeprogram kaldet TelenGod, som har sin helt egen hjemmeside.
http://www.orphanedgames.com/articles/Telengod/Telengod.html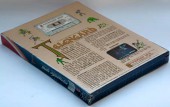 Det er et spil der kræver en indsats, men som belønner med mange hundrede timers underholdning hvis man ellers kan afsætte den slags tid… det er kæmpestort hvilket måske kan fornemmes i vedlagte billede af et hjemmelavet kort og så er spillet endda programmeret i 38K Basic, med et par subrutiner i maskinkode.
Tip!
Giv evt. spillet en tur i emulatoren med hastigheden sat lidt op, for en mere flydende spiloplevelse…